As I mentioned earlier, I bought a SmartThings hub and want to connect a couple of sensors and devices.
One of the devices I bought is an energy meter. Since I drive an electric car I wanted to get some more insights in how much energy I use charging my car (and also what I use in the house).
I found the Aeon Labs energy meter on Amazon for $35.00. Aeon Labs does have a newer version (V2) but I could not figure out why that would be a better deal for me. (and it costs $99)
The manual in the box has the install instructions. What was missing is how to pair the device to the hub. A little cardboard points you to the Verizon website (!?). Apparently they sell some kind of home automation system as well. Search on the internet brought me to a blog here: http://support.micasaverde.com/customer/portal/articles/1151131–aeon-labs-pairing-the-home-energy-meter
You have to open up the energy meter and instead of holding the black little button for 5 seconds (that didn't work for me) I pressed it shortly several times until the light started blinking quickly. After that I could add a device in the SmartThings app and it found it immediately.
Hooking up the energy meter in my breaker panel was easy. Just connect the 2 clamps to the 2 big black wires (don't touch them duh!) and power the meter with the usb cable and the connector in a outlet.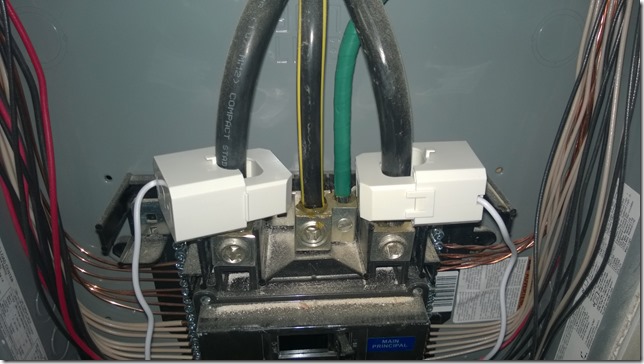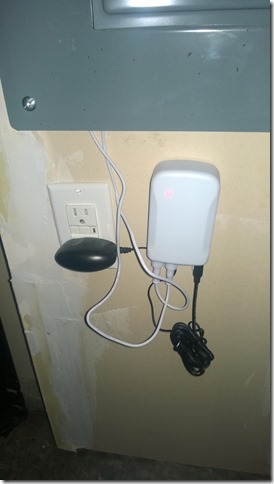 After this I logged in on the Web Ide from SmartThings and added a custom device type. You go to the my Device Types tab. Click on +New Smart Device, select the from code tab and I pasted the code from this github repository https://github.com/SANdood/Aeon-HEM-v2
After that go to 'My Devices' Select your energy meter, click edit and change the type to Aeon HEMv2. After this when you open the app you will see the amount of energy the meter is reporting. (I have to figure out what the 2 empty spots are on the left and change the script a little bit)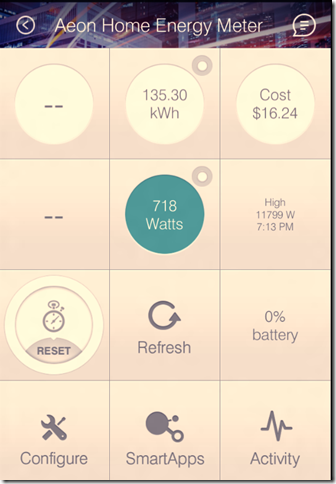 Next will be using a script to report this data to Xively or Bidgely to see some data over time. (and figure out if 700 Watts energy usage in the evening is a lot or not

)