About this blog, it's wordpress running on Microsoft Azure
Why not describe how I installed this blog? Perhaps you are surprised I run this blog on WordPress while I am working at Microsoft 🙂 that's ok but I like to play around with other stuff than just Microsoft technology. It helps me being informed about what people are also using (and yes I know not the entire world is using Microsoft technology) and WordPress actually runs perfectly fine on Microsoft Azure. So that's what I did. I have a MSDN subscription which comes with 1500 hours of Azure time. If you setup WordPress on Azure websites it's even for free!
So this is what I did. Logged in on the Azure portal, clicked New, Web Site, From Gallery and selected WordPress.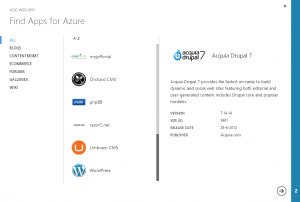 You need to select a unique url for azurewebsites.net. Create a new MySQL Database and the location where you want all this created (which for me is Western Europe). The MySQL database (20MB) is hosted by ClearDB. That's all there is to installing wordpress on Azure. I later changed the configuration of the website from free to shared so I could configure my own domain hoekstraonline.net for this website.
John Papa described the proces I more detail in his blogpost here.
The last step I did was moving the wordpress stuff into the wordpress directory. That proces is described here. This gives me a nice clean directory where I can put other junk in the future when I try to experiment more with azure and some mobile services and .net stuff I want to build. (and it's an easy backup through ftp by just copying the wordpress directory locally.)