Little fun with NFC and Windows Phone 8
Since Windows Phone 8 supports NFC I wanted to see what I could do with it. I ordered a bunch of NFC stickers online from Special Line.
You can use your own app to program the stickers but there are also a few in the store already. NFC Interactor or NFC Launchit. NFC Interactor is the most flexible but you need to do most of the configuration yourself. NFC Launchit has a lot of predefined action you can write to your tag (but only app launches) for example go to your wifi settings or Kid's corner. What it doesn't allow you to do is choose a custom app or one from the store (it only has a predefined most popular list)
What I wanted to do is start the app Flitsnav in my car when I put my phone in my Brodit carholder. This is how it looks like in real life.
BTW, Microsoft did think about security. This is how it works when you have a pincode configured on your lockscreen.
So I used NFC Interactor. You need to go to the 'tag composer' pivot. Remove everything you see on the screen. Add a LaunchApp (Generic) record. The Windows Phone Product ID you need to provide yourself. I looked up the FlitsNav one for my scenario and pasted in the textbox. After that you choose 'write to tag' and hold the phone over your NFC tag. That's it.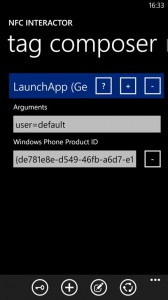 One little gotcha. Windows Phone 8 only allows reading and writing tags which are NDEF formatted. Make sure you order tags (or format the tags yourself with a NFC writer or Symbian/Android phone). I ordered my tags with Special line and asked them to format the tags for me and that's what they did.
Oh BTW. Windows Phone 8 ALWAYS asks if you want to start the app. That's not something you can change.